Food vs. Decor: Pumpkin, Squash, Gourds Edition | Which of these can you eat?
Pumpkins, squash, and gourds are taking over people's homes and offices. They scream all things Fall and really exemplify this cozy season. But you also might be seeing them on people's plates - from soups to lattes and everything in between. But which ones can you eat and which ones are better left as decoration?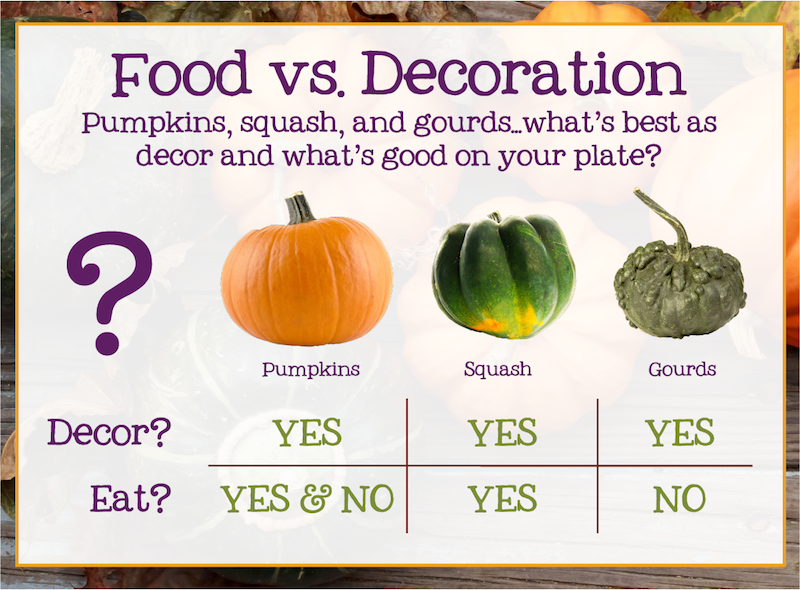 Pumpkins can be great for eating and carving...it just depends on the type of pumpkin. A pumpkin perfect for pies and other recipes is generally smaller, full of flesh on the inside, and sweeter in taste. A pumpkin that has less flesh and stringy guts is better for carving and decor. Don't forget, avoid having gourds on your plates  altogether and use it for all things Fall decor. Squash is just good all around. 
Share your Fall decor! Share photos of your Fall decor over at our Facebook page!
Got a question about fruit? Let us know in the comments below.
----------------------------------
Want more all things fruit? Follow us on the web!
Website: www.sigonasoffice.com
Facebook: /sigonasoffice
Linkedin: Sigonas's Office Deliveries on LinkedIn