Sigona's Classic Guacamole Recipe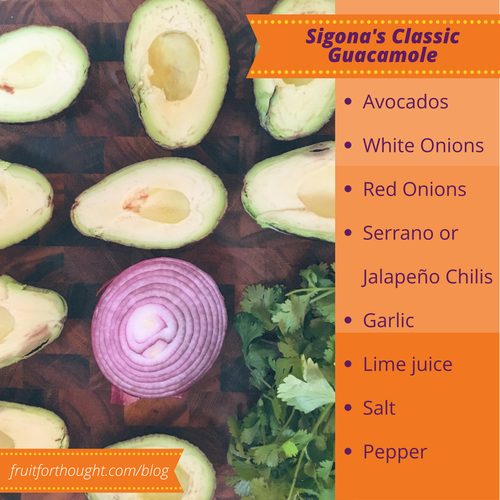 Did you know that more avocados are consumed on the day of the Big Game than any other day of the year? Last year Americans consumed upwards of 139 MILLION pounds of avocado on that Sunday! Holy guacamole! 
If you're on the hunt for a new guacamole recipe, you're in luck! Sigona's Classic Guacamole packs a mild hint of spice, but be sure to adjust the chili quantity based on your own level of enjoyment.
Ingredients:
4 large ripe avocados, removed from skin and coarsely chopped
1/3 cup finely diced white onions
1/3 cup finely diced red onions
2-4 Serrano or Jalapeno chilis, finely chopped (keep or remove seeds depending on how hot you like your guacamole)
1 clove garlic, minced
2 tablespoons fresh-squeezed lime juice
1 teaspoon salt
Fresh ground black pepper
Directions:
Mix onions, chilis, garlic, and salt in a medium-sized glass bowl. Add the avocados and gently stir. Pour in the lime juice and toss. Season with black pepper for taste and you're done! Serve with chips, veggies, or spread on a sandwich!
Pro tip: be sure to taste the guacamole before you serve. Too salty? Add more lime juice! Too tangy? Add a bit more salt and pepper to balance out the lime juice.