Behind the Scenes with the Owners of Papachay Coffee Roasters
At Sigona's Office Deliveries, we love bringing you the best local produce and goods that our area has to offer. We're proud to provide coffee from a local family business called Papachay (pronounced "pa-pa-chai").
Max and Juliana Gambirazio have owned their farm in Peru for over 20 years and roast the beans in their facility in San Carlos. They pride themselves on producing single-origin, unblended coffee in small batches. You can truly taste the difference and freshness in every cup.
Get Papachay coffee delivered to your office.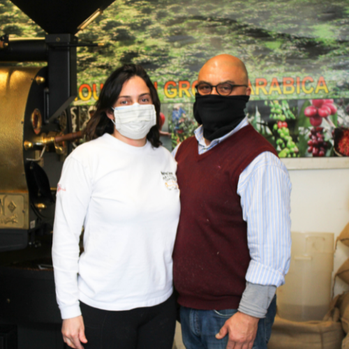 Why did you start growing and roasting your coffee beans? When did it start?  
Max (owner): "One weekend when riding my motorcycle in the rainforest of Peru, my bike broke down in front of a farm. I started talking to the owner, who was growing coffee beans, and she wanted to sell the farm. I'd never had a cup of coffee in my life but it felt like destiny, and I ended up buying the 30 acres."
When he took over the farm, he started planting and growing more coffee trees. Now more than 20 years later, he has expanded this farm from 30 to 50 acres. 
What makes your coffee unique, and how much coffee do you grow each year? 
Max: "I know our coffee is special, and I thank mother nature because our farm is located 1,700 meters above sea level, producing the highest quality. The beans benefit from high daytime and low evening temperatures, which helps them grow slowly and fully under shade. With this climate, our beans can grow bigger and with more sugar leading to no bitterness or sourness."
It takes four years for coffee plants to mature and produce beans for consumption. The Gambirazio's 50-acre farm is packed with about 7,000 plants per acre. Each bean is hand-picked and maintained. At the start of each harvest season, they "clean the farm" by clearing out overgrown plants before the first pick because the land is located in the middle of the rainforest!
How often do you go back to the farm in Peru? 
Max: "Before COVID-19, we would take turns visiting the farm and assisting in the harvest, and overseeing the shipments to the Oakland Port. We miss going back and seeing family. Depending on the year, once the beans leave the dock in Peru, it takes 15-39 days to arrive here."
Who likes coffee more, you (Max) or Juliana? 
Max: "Juliana has been a coffee lover since she was little. Growing up in Brazil, coffee is consumed at all ages and is a part of the culture!"