Fall-Inspired Office Salad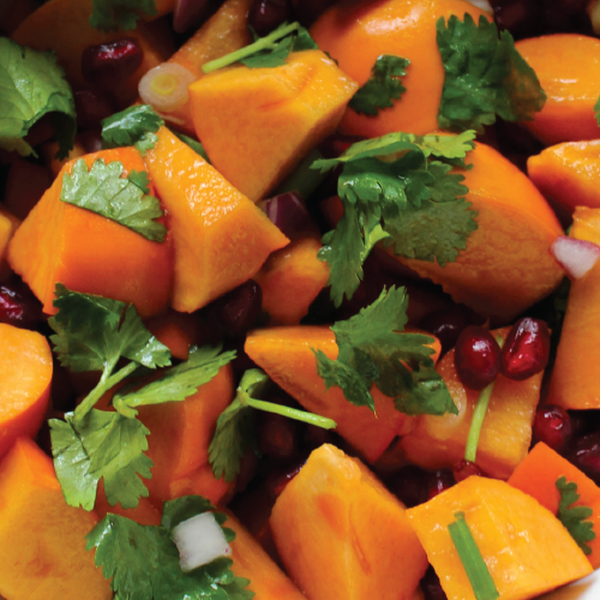 Eating healthy lunches at work can feel really time-consuming. This perfect fall-inspired fruit salad is made with Fuyu persimmons, pomegranates, and Satsuma mandarin juice, and is ready in 15 minutes! You can prep most of it at home and then bring it to the office to finish it off with persimmons and Satsuma juice from your fruit box. We garnished it with cilantro, green onion, and a little bit of red onion to balance out the sweetness of the persimmons and pomegranate. What makes this salad even better is that the produce is insanely fresh this time of the year and grown locally here in California!
Prep Time: 15 minutes Servings: 3
Ingredients: 
5 Fuyu persimmons, cut into chunks

Arils (seeds) from one pomegranate

1 green onion, chopped 

¼ of a red onion, chopped small 

A big handful of cilantro, roughly chopped

¼ cup of citrus juice. We used a Satsuma mandarin. 

Drizzle of olive oil

Small pinch of salt 
Directions:  
Start off by de-seeding the pomegranate. This can be a bit messy, but follow our

 

tutorial video

 

for an easy, mess-free approach to de-seeding this delicious fruit. 

While the pomegranate is soaking, add the persimmon, green onion, red onion, and cilantro to a salad bowl.

Finish de-seeding the pomegranate and add the pomegranate arils to the bowl.

Finally, drizzle the citrus juice and olive oil over the salad. Add salt and toss to coat!