Four Office-friendly Salad Hacks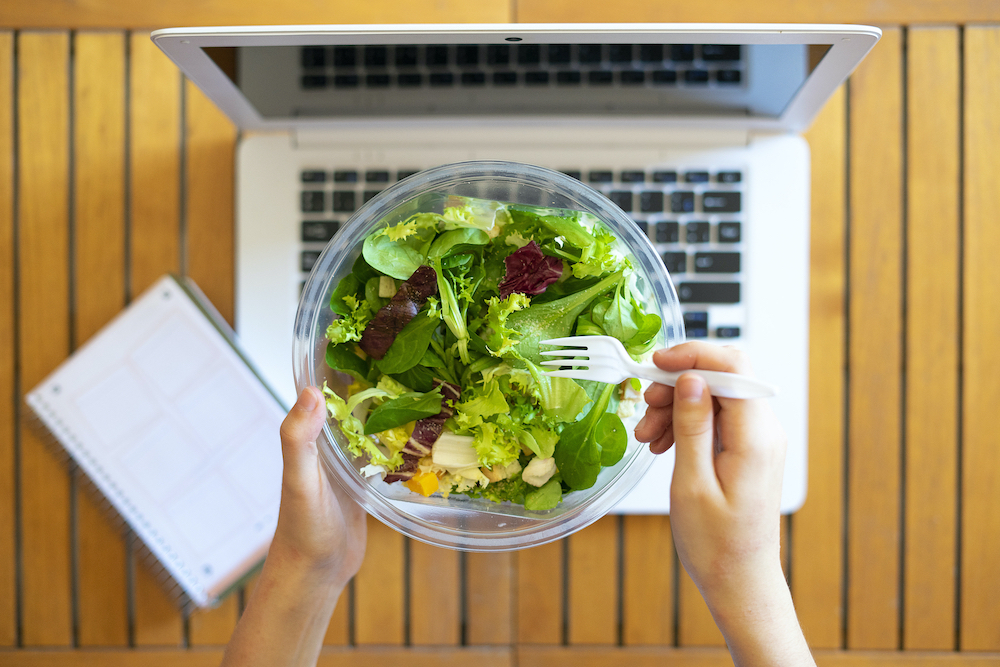 Wilted greens? Soggy croutons? Leaky dressing containers? When that midday lunch salad is good, it's good, but when it's bad, it's really bad! Luckily, we've got some salad hacks to help you take your salad from a lunch you have to eat, to one you want to eat. To celebrate National Salad Month, try one or all of these tips.
Stocking your snack drawer
Don't let what you pack hold you back. You can easily stock your snack drawer with all kinds of ingredients to enhance your salad. Here's a list to get you started for your next shopping trip:
o   Crackers are a versatile option. Use them to scoop up a mouthful of chicken salad or crumble them on top of your dressed greens. 
o    Salt, pepper, everything bagel seasoning, and chili-lime seasoning add flavor to any lunch, but especially salads with smoked salmon, goat cheese, and hard-boiled eggs. 
o   Honey, olive oil, vinegar, and mustard are the shelf-stable ingredients for a DIY, desk-side dressing. An emulsifier, mustard does the important job of keeping all the ingredients from separating. Plus, it's delicious! 
o   Crunch is essential. Keeping some slivered almonds or croutons in your snack drawer ensures your salads will always have some pleasing texture.
Choose the right greens 
While you can use almost any greens when you're preparing a salad, not all greens work well in a packed lunch. Classics like spinach and arugula are delicious, but won't hold up well when prepped in advance. It's especially true if you're packing your lunches a few days ahead. We recommend sturdier leafy. Think greens like collards, romaine, and kale. They withstand packing and retain their texture in varying temperatures. 
Keep cool
For a truly satisfying salad, try adding grains and protein. After cooking, make sure to cool the protein or grains before adding them to the greens. Grains become mush if packed while warm and hot tofu will wilt your greens before you get to enjoy them! 
Packing a lunch shouldn't be jarring
Stick to light, sizeable containers for packing your salads. They keep your ingredients from getting smashed and are easy to eat out of. Glass jars might look cute, but their size and weight make them less-than-desirable salad bowls. If you don't want to lug a large container around, keep one at your desk or in your office's kitchen. Another option is to pack your salad ingredients in separate, smaller containers. Stackable containers are easy to pack and give you total control over portion sizes. Just combine the ingredients when you're ready to eat!
Looking for some office salad ingredient inspiration? Check out our latest blog on seasonal spring produce. Have some of your own salad hacks to share? Let us know by tagging us on Instagram @SigonasOffice.