Peachy Overnight Oats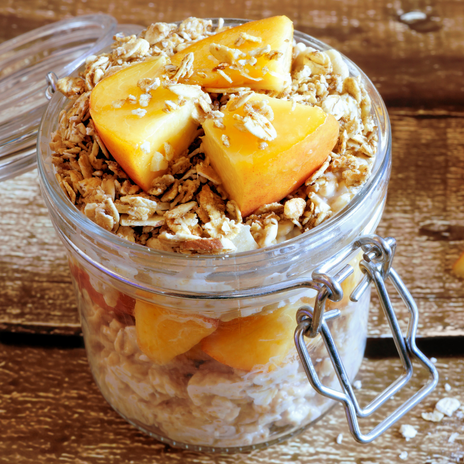 August is National Peach Month. Peaches are one of the best parts of spring and summer! Best known for their balance of sweetness and acidity, white peaches are often milder in flavor, and a bit sweeter than their yellow counterparts. Yellow peaches have more acidity and are good for both cooking and snacking. While you don't need any excuse to enjoy peaches this season, this Peachy Overnight Oats recipe has all the sweetness of a summer peach, without the bruise risk of carrying a peach around in your lunch bag! Enjoy this recipe first thing in the morning, as a midday snack, or even as a dessert.
Enjoying this recipe at work? Don't forget to tag us in your photos @SigonasOffice!
Ingredients:
½ of a ripe peach
½ cup of old-fashioned rolled oats or instant oats
¾ cup dairy or non-dairy milk
2 teaspoons maple syrup
½ teaspoon vanilla extract
1 teaspoon chia seeds
Dash of cinnamon
Dash of salt
Optional ingredients: allspice, nutmeg, ginger, berries, other stone fruit, pistachios, almonds, and walnuts.
Preparation:
Cut your peach in half and remove the pit. Slice half the peach into wedges and slice each wedge into 3-5 chunks. Place half the chunks in a sealed container and place in the fridge.
Add oats, milk, maple syrup, chia seeds, vanilla extract, cinnamon, and half your peaches into a sealable container (mason jar, Tupperware, etc.) and stir to combine.
Place in the fridge overnight (or just 1 hour if you're preparing these in a rush).
When you've removed your overnight oats from the fridge, add the remainder of your peaches to the top, and enjoy!