Six Snack Trends from the 2022 Winter Fancy Food Show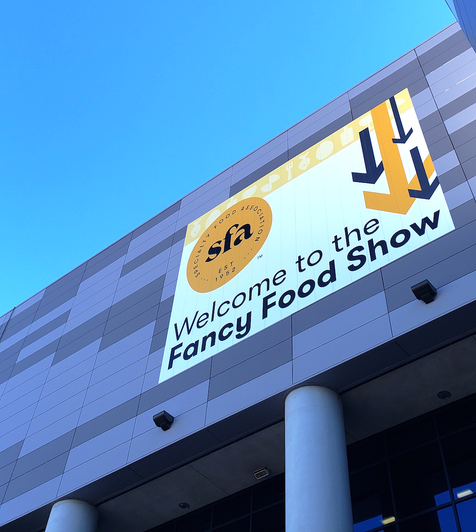 We kicked off February at the Specialty Food Association's 2022 Winter Fancy Food Show in Las Vegas, Nevada. It was a jam-packed three-day event with thousands of specialty snacks and flavors from all over the world. We spent a lot of time talking to exhibitors, reading nutrition labels, and of course, sampling! While it's still fresh in our mind (and on our palates) we've compiled six of our favorite snack trends from the show:
Clean and Simple Ingredients
More than ever, we are paying less attention to what's on the front of our favorite snack packaging and more attention to what's on the back. The nutrition label and ingredient list have become just as important, if not more important, than a brand's design. As the old adage goes, it's what's inside that counts. Many consumers are now looking for snacks that contain simple, natural, and familiar ingredients. Ingredients that are easy to pronounce and quickly recognizable. Food and beverage companies have responded by leaving out artificial flavors, preservatives, refined sugars, and gums.
More Plants in your Snacks
Although plant-based isn't a brand-new food trend, this was the first year that the Fancy Food Show had an entire section dedicated to it! The Plant Based Pavilion had many of the foods even avid meat-eaters have come to know like nut milks, veggie burgers, and non-dairy yogurts. But there were newer goodies as well. Creamy and spreadable vegan cream cheeses, crispy and light kelp chips, and even flavor-packed jackfruit chews. Planning an office party? We even tasted some rich and delicious plant-based cheeses pre-cut for charcuterie boards!
Unique Flavors and Combinations
Over the past two years, the pandemic has shifted almost every aspect of our lives, including taste trends. With travel and conferences on and off hiatus, snack companies have sought to take global flavors from roadside snack stands and high-rise restaurants and bring them directly into our pantries. Those with adventurous appetites found themselves right at home at the Fancy Food Show. We noticed flavor combinations that included fermented sweet garlic, smoked salts and olive oils, Melegueta peppers, as well as chips made from the Nopal cactus. There were also upcycled foods, snacks made from ingredients that would have otherwise ended up as food waste. These included items like chocolate made with marc, a nutrient-rich, naturally sweet byproduct of winemaking.
Functional Ingredients
Functional ingredients, sometimes referred to as functional foods, are foods with potentially positive health effects beyond just sustenance. The classic example is oatmeal. Not just a delicious on-the-go breakfast, it also contains soluble fiber that can help lower your cholesterol levels, reduce inflammation, and improve immune function. While the concept originated in Japan in the 1980s, the pandemic has created a renewed interest in the health benefits of functional foods. At the Fancy Food Show, this renewed interest could be seen in foods with adaptogens, herbal aids that help our bodies recover from short- and long-term stress. Foods with probiotics, zinc, and electrolytes were present as well. For folks interested in gut health, we tried fermented snacks, sauces, and beverages packed with probiotics, as well as foods infused with supplements like collagen and MCT oil.
Sweet Treats without the Added Sugar
The results are in and added sugar is out! We checked out a slew of snacks without added sugar, as well as snacks that were intentional about the type of sugar they included. Dates were a popular sweet snack. Sometimes paired with coconut, nuts, and seeds for naturally sweet protein bars. Flavor-packed dried fruit shined with its natural sweetness in varieties like mango, apple, pineapple, and even persimmon. Spins on the classic potato chip were present as well, with beets, chickpeas, mushrooms, and beans making the list of sugar-free bites. Looking for dips? We noticed hummus, guacamole, hot sauces, and even barbeque sauce without added sugar!
Snacks as Meals
As many of us rethink the traditional 3-meals-a-day norm, snacks have become a crucial nutritional staple for many working people. Terms like 'meal replacements' and 'nutrient dense snacks' have taken over food-related Google searches. Snacks are now doing double duty as delicious and satisfying. We tried high calorie, protein-packed meal bars made without dairy, gluten, and soy as well as snack-packs with a variety of dried fruit, veggies, crackers, and nut butters. Curious about savory snack options? Have you heard of 'snacking beans'? We sampled some perfectly cooked and conveniently packed garlic and rosemary snacking beans. Black truffle mixed nuts, chipotle crunchy chickpeas, and new spins on the classic protein shake were present as well.

We had a blast tasting our way through the Specialty Association's 2022 Winter Fancy Food Show, and while the show is primarily a trade event, it often influences what consumers will be eating for years to come. Whether you attended the show, or are noticing new items on your local grocery store shelves, what food trends are you excited for?