Spinach Artichoke Dip Recipe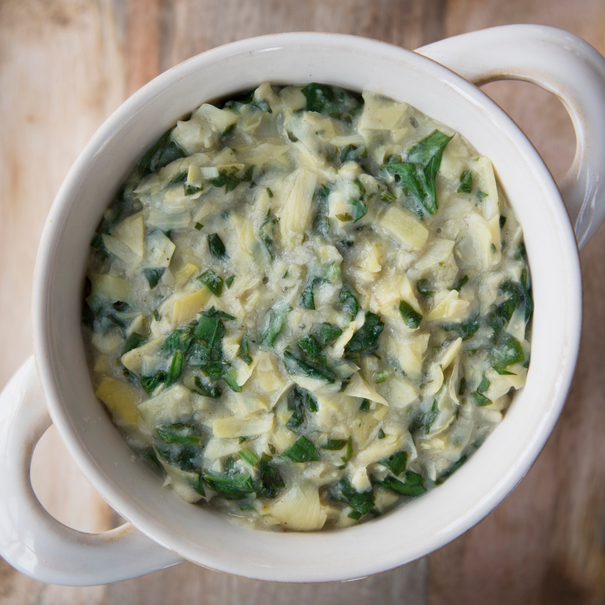 Recipe adapted from the New York Times.­­­
March 16th is National Artichoke Day. We love eating them boiled, steamed, grilled, and fried, but today we're honoring the artichoke with a recipe for spinach artichoke dip. Whether it's a meeting or a Friday party, this dip is sure to be a crowd pleaser at any office get-together. We recommend paring it with tortilla chips, pita bread, or baguette slices. If you're looking for this dip to be grab-and-go snack, you can pre-portion some on endive leaves.
Ingredients:
2 tablespoons olive oil
1 large garlic clove, finely chopped
1 12-ounce bunch fresh spinach, finely chopped (or 1 10-ounce package frozen spinach, defrosted, drained and finely chopped)
 Pinch of red-pepper flakes (optional)
4oz can of chopped green chiles (optional)
 Kosher salt and black pepper
1 (14-ounce) can quartered artichoke hearts, drained and coarsely chopped
8 ounces cream cheese, cut into 1-inch pieces
4 ounces fresh mozzarella, torn or shredded
4 ounces sour cream or full-fat Greek yogurt
¼ cup Pecorino Romano or Parmesan, finely grated
Preparation:
Step 1: Heat olive oil in a medium put over medium heat. Add garlic and cook, stirring until it's softened and fragrant (about 30 seconds).
Step 2: Add spinach to the pot one handful at a time. Allow each handful to wilt before adding the next. Add crushed red pepper (if using) and season with salt and pepper to taste. Stir frequently until most of the liquid from the spinach has evaporated (no need to drain, this usually takes about 3 minutes). Add artichokes, taste, and adjust salt and pepper if necessary. Cook for 3 more minutes.
Step 3: Reduce heat to low and add cream cheese and mozzarella. Using a wooden spoon or spatula, stir until all the cheese has melted. Stir in sour cream and pecorino, taste, and adjust salt and pepper if necessary.
Step 4: To serve the spinach dip cold, let it chill in the refrigerator overnight. If you want to serve the dip warm, let refrigerated spinach artichoke dip rise to room temperature then bake it at 350 degrees for 20-25 minutes.  
Enjoying this in the office? Tag us in your photos @SigonasOffice!