The Importance of Supporting Small Farmers & Our Vendors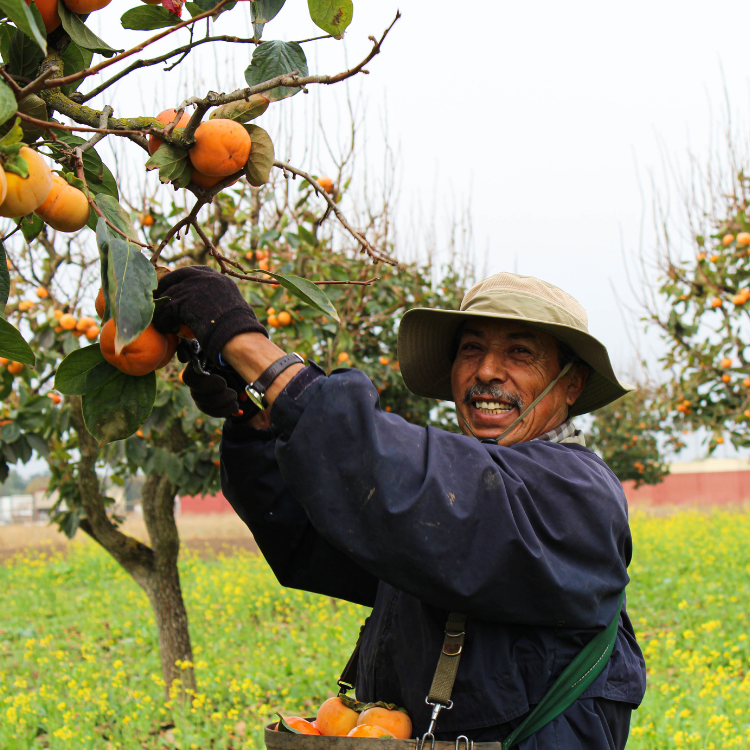 "Farmland is going to be the most important and most beautiful thing that we preserve in this country. We have National Parks, National Forests. Why not National Farms?" -- Paul Buxman
The number of family-owned farms has been declining for generations due to lack of profit, American trade wars, and climate change, to name a few. Small farmers help create local, sustainable produce that feeds states' economies and our bodies. Yet regional agriculture is being wiped out and replaced by corporate mass production. It's more important than ever to buy from small, local farmers, and here's why. 
Here in California, agriculture is a massive industry with over 70,000 farms and 100,000 farmers and represents one of the largest agricultural economies in the United States. Yet small farmers are going out of business every year. This past fall, Ron Meyer, who grew the Best Ever Pears (one of the pear varieties we provided), had to shut down his orchard because there were too many expenses. His son tried to pick up the business, but there was no profit as they paid their workers' fair hourly rates so families could have a roof over their heads and put food on the table. On top of all the other expenses of running a farm, small farmers are lucky to break even and the majority end up in debt. 
Yes, larger farms are able to produce efficiently but without smaller farms, the food supply chain can be negatively affected long term. When a major producer provides all the milk or cheese to an entire economy, what happens when that plant or animals get contaminated or an environmental disaster strikes? Marlow, of Rural Advancement Foundation, told the Times, "It's an incredibly fragile supply chain, and when it fails, it fails completely."
Supporting local farmers has many benefits; fresher food, supporting the local economy, plus it's more sustainable. How is buying local more environmentally friendly? When you buy to your region you're following the seasonality of produce, not mass production which is better for the soil and leads to a lower carbon footprint from the food being transported locally and not having to cross state and country borders! These smaller family farmers are able to produce specialty items and give their crops extra care throughout the year that leads to more flavorful, nutrient-dense food. 
At Sigona's, we pride ourselves on working with many local farms. Here are a few we source from regularly: 
Pleasant Oaks Ranch
In the town of Springville, you'll find a place seemingly untouched by time; a place called home to orange grower Ron Matik of Pleasant Oaks Ranch. Since 1984, Ron has grown some of the best heirloom navel oranges in the state, if not the world: the heirloom Washington Navel. Heirloom Washington Navels are the variety that got the whole California citrus market booming years ago. It takes special attention from the farmer to tend to the soil and the variety to produce such outstanding fruit.
Mariani's Orchard
Andy Mariani's farm located in Santa Clara Valley continues his family tradition of growing sweet cherries, apricots, peaches, nectarines, and plums. He also has a reputation as a highly innovative orchardist who utilizes some of the newest agricultural research to develop better farming techniques. One of our personal favorite specialty heirloom fruits is "Santa Rosa" plums.
Gizdich Ranch
Gizdich Ranch was originally purchased by Vincent John Gizdich, a Croatian Immigrant, in 1937. Gizdich Ranch is in the "core" of Watsonville's apple country on picturesque Peckham Road. This 4th generation, family-owned, and operated agricultural business is testimony that the American Dream is still viable. We source strawberries, olallieberries, boysenberries, apples, and apple juice and pies from Gizdich Ranch. 
Fujita Family Farm
When you walk onto the 10 acres of Fujita Farm in Morgan Hill the first word that comes to mind is family and lots of Fuyu Persimmons. This small farm is full of trees that create beautiful, pesticide-free, bright orange globes that are hand-picked by three farmers. Debbie Sigona, neé Fujita, is married to Paul Sigona. Debbie's family and late father have grown and harvested Fuyu persimmons for the Sigona's for over 15 years and now Paul along with Ruben, head farmer, now ensures the annual harvest of Fuyu Persimmons are picked at its highest quality. 
When supporting Sigona's, you're not only supporting our small family business but, many small farmers around the region. We've been working with many of these families for over 20 years to bring you the highest quality and a reasonable price. These farmers not only bring us delicious specialty products but, are keeping the agriculture business in the hands of hard-working families across California!