What's New In Your Basket This Week: Manila Mangoes!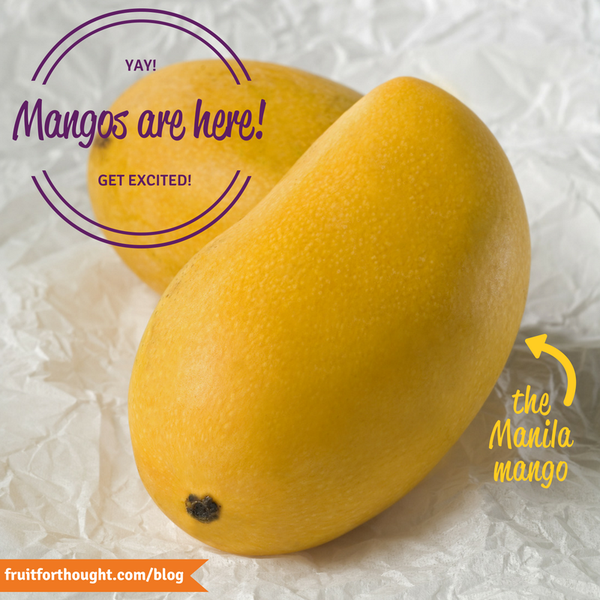 Here at Office Deliveries, we're excited that mango season is just getting started! Mangoes are an office favorite because of their unique flavor and texture and throughout this spring and into the summer, you'll have the chance to try several varieties in your Wide Variety Baskets and Boxes. Get excited!
To kick off mango season, you'll find the Manila mango in your Wide Variety baskets and boxes this week. The Manila mango is a kidney-shaped, oblong mango with a distinctly yellow coloring. Grown primarily in Mexico, the Manila mango is a fiberless mango with a buttery texture and a rich, sweet flavor. You'll know the Manila mango is ripe when the mango has a deep golden color and is soft when gently squeezed.
Fun fact: as this mango gets riper, you might notice that it gets slightly wrinkled. That's okay - the wrinkled appearance is an indication that the mango is ready to eat! Enjoy! 😃
Here at Office Deliveries, we love that the Manila can be enjoyed without any of the stringy fibers that you might find in some other mango varieties. Instead, it cuts like soft butter and its bold taste simply melts in your mouth. Tell us how you enjoy the fiberless texture and unique flavors of the Manila mango on our Facebook page and stay tuned for more information in March as we dive deeper into the mango. We'll teach you how to cut a mango like a pro, how to store your mango to get the most out of it, and we'll provide creative recipes so you can enjoy the mango in new ways! Make sure to follow us on Facebook so we can enjoy the mango season together.
Interested in trying the Manila mango but not ordering the Wide Variety basket or box? No problem! You can add any item - including the Manila mango - to your existing order on our website. Click HERE to add fruits or HERE to add veggies.