Spooky Snacks for your Office Potluck: Franken-kiwi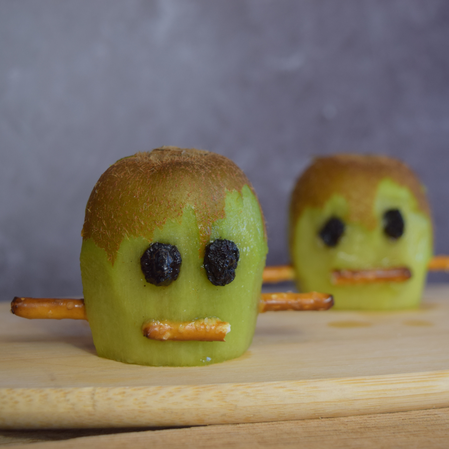 Spooky season is here! If you've been searching for some Halloween office potluck inspiration, we've got a few festive and fruity recipes for you. Making these recipes for work? Don't forget to tag us @SigonasOffice
Ingredients:
3 kiwi
9 pretzel sticks
6 dried blueberries
Directions:
Slice one end of the kiwi so the kiwi can sit upright.
Starting at the cut end, use a knife or vegetable peeler to remove some of the kiwi's fuzzy skin. Cut in jagged strips so the skin remaining at the top of the kiwi resembles Frankenstein's hair.
To create the mouth, break a pretzel stick into ½ inch size piece. Press the pretzel piece, length wise and horizontally, into the bottom third of your kiwi.
To create the bolts, break another pretzel stick into two ½ inch pieces. Broken side first, press each pretzel piece into each side of your kiwi.
To create the eyes, gently press two dried blueberries above the pretzel mouth.
Enjoy!